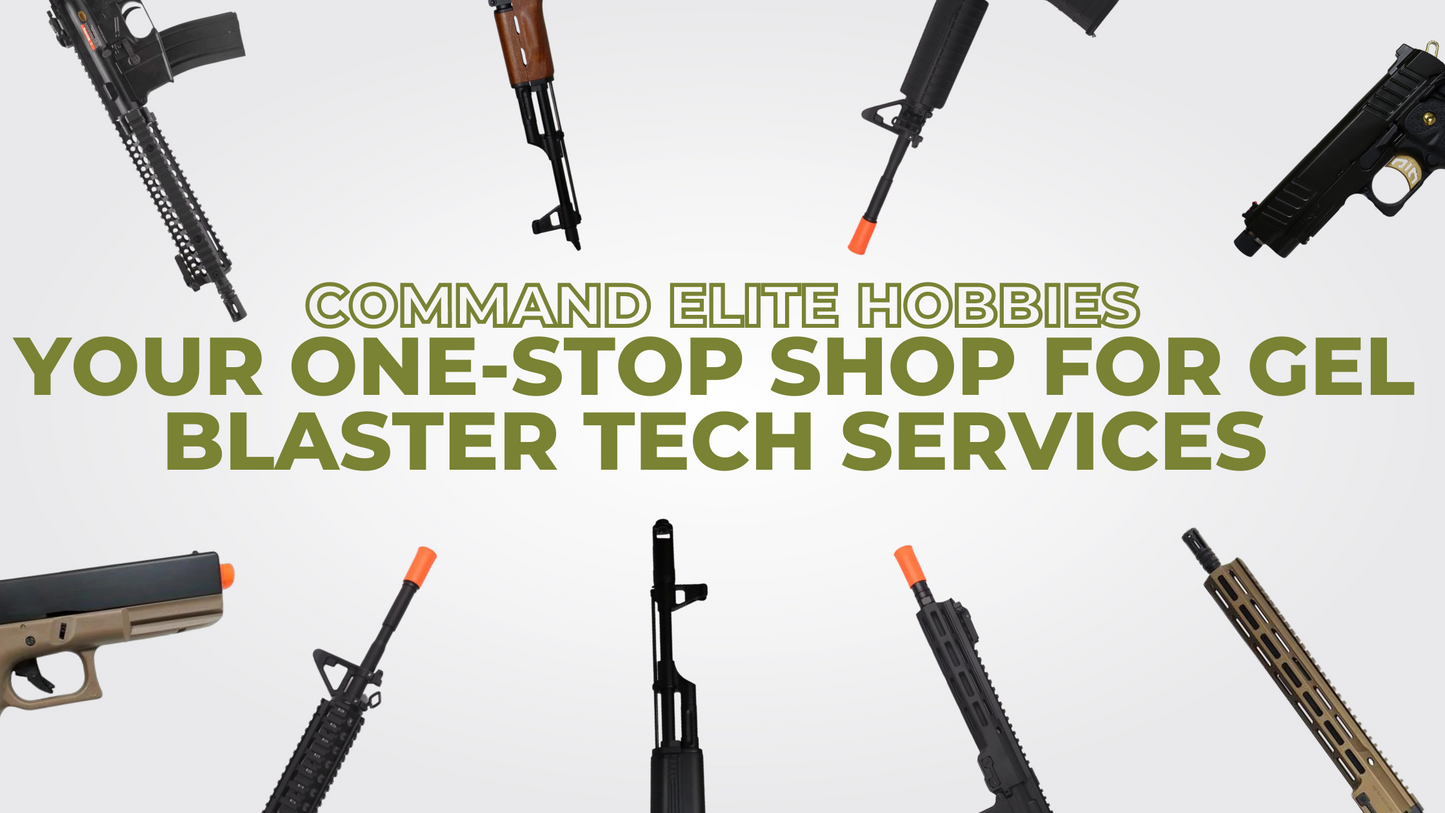 Command Elite Hobbies: Your One-Stop Shop for Gel Blaster Tech Services
Whether you're a seasoned player or a beginner, owning a gel blaster is a great way to spend your free time. But like any other hobby, gel blasters require maintenance and upkeep to ensure they perform at their best. We understand that an underperforming or broken gel blaster is a frustrating experience, that's why we're committed to providing fast, reliable services and upgrades to get you back to blasting in no time.

Command Elite Hobbies Tech Services is the leader in the gel blaster industry, offering high-quality technical services to keep your gel blaster running smoothly. From basic maintenance and repairs to custom upgrades and modifications, Command Elite Hobbies has the expertise and experience to help you get the most out of your gel blaster. With a team of certified technicians and a state-of-the-art facility, we are dedicated to providing our customers with the best possible experience.

Regular maintenance is essential for ensuring the longevity and performance of your gel blaster. Command Elite Hobbies offers complete gel blaster cleaning and tune-ups to keep your blaster in top shape. We also provide repairs for any damages or issues that may arise during gameplay. With our extensive knowledge and expertise, Command Elite Hobbies is equipped to handle any challenge your gel blaster may face.

Some of the key advantages in the tech service scene we have over any competitor is our extensive inventory of high-quality replacement parts. We carry a wide range of parts for the most popular gel blaster models. Combining this with our years of experience and passion for gel blasters we can diagnose and repair your blaster quickly and efficiently.

In addition to basic maintenance, Command Elite Hobbies Tech Services also offers custom upgrades and modifications to help you take your gel blaster to the next level. From custom looks and accessories to high-performance parts and upgrades, we have the tools and skills to help you create the gel blaster of your dreams. Whether you're looking to improve your accuracy, increase your firepower, or simply make your gel blaster stand out, Command Elite Hobbies has you covered.

At Command Elite Hobbies, customer satisfaction is our top priority. We are committed to providing the highest level of service and expertise to ensure that your gel blaster is running at its best. Whether you're looking to keep your blaster in top condition or to create a custom masterpiece, we have the skills and expertise to help you succeed. So Entrust your gel blaster to the experts by giving us a call or visiting us in-store for unbeatable service and results.